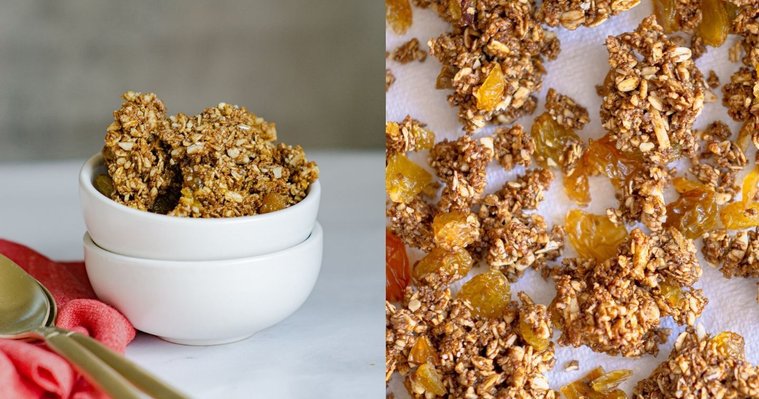 Golden Granola
Golden granola is filled with warm flavors like molasses, vanilla and golden raisins and makes for the perfect crunchy snack.
prep time: 10 mins
cook time: 40 mins
Ingredients
2 cups oats
1 cup almonds
1 teaspoon ground cinnamon
1/2 teaspoon salt
5 tablespoons molasses
3 tablespoons vegetable oil
2 tablespoons brown sugar
1 teaspoon vanilla extract
1 cup chopped golden raisins
Instructions
1. Preheat oven to 325 degrees F
2. In a food processor, pulse the oats and almonds until coarsely ground. Add the cinnamon and salt. Pour on a parchment lined baking sheet.
3. Bake for 20 minutes, mixing it around halfway.
4. While it's baking, heat the molasses, oil, brown sugar and vanilla extract in a saucepan over medium heat for about 5 minutes.
5. Once the oat mixture is done cooking in the oven, transfer to a large mixing bowl. Pour the molasses combination on top and mix to combine.
6. Stir in the raisins and flatten the mixture on the baking sheet. Return to oven to bake for an additional 15-20 minutes.
Granola gets eaten a lot around here. We used to make it every week, but then 2 kids later, it got pushed to the back burner. This Golden Granola recipe has a lot of warm flavors that pair well for cooler weather, though it can (and should) be enjoyed whenever!
What goes in Golden Granola?
golden raisins
oats
almonds
black treacle or molasses
cinnamon
salt
canola or vegetable oil
vanilla
brown sugar
Black treacle is a UK type of molasses. Thick and rich just like molasses. We found ours at our local specialty grocer, Central Market.
How to Make Golden Granola
First, you'll pulse and combine the oats, almonds, cinnamon and salt. That mixture will bake in the oven for about 20 minutes. While that is baking, you'll make a sauce by combining the molasses, sugar, oil and vanilla over heat.
After oat mixture is finished baking, you'll pour the sauce over, add the raisins and bake again for another 15-20 minutes.
After that, you're ready to start snacking!
Ways to Enjoy Golden Granola
There are numerous ways to enjoy Golden Granola including;
On it's own
With almond milk (like a cereal)
With yogurt
With yogurt + fruit
Mixed into oatmeal
Topped on a smoothie bowl