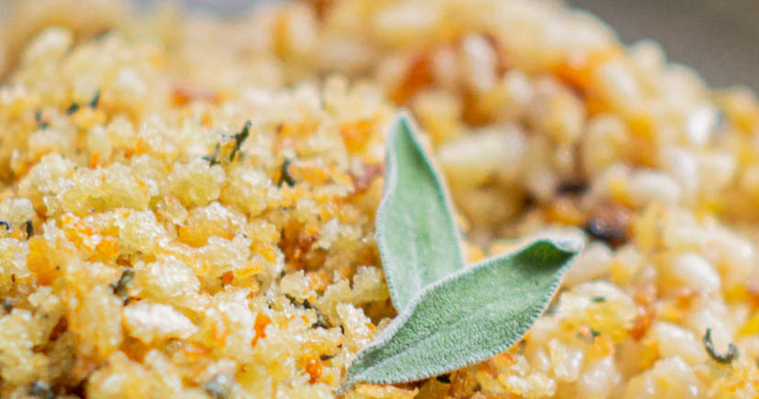 Vegan Butternut Squash Risotto + Sage Breadcrumbs

This vegan butternut squash risotto with sage breadcrumbs is a creamy, delicious meal. Bursting with fall ingredients and flavors, you'll relish the time spent making it.
Ingredients
For the Risotto
2 C arborio or short grain rice
1 C leek (diced, only white and light green parts)
1/3 C dry white wine or white cooking wine
5–6 C vegetable broth
2 C butternut squash (peeled and cubed)
3 tbsp olive oil (divided)
1 tbsp fresh garlic (minced )
salt and pepper (to taste)
For the Parmesan
1/2 C cashews (raw, unsalted)
1/4 tsp garlic salt
2 tbsp nutritional yeast
For the Sage Breadcrumbs
1.5 C cubed baguette
5–6 fresh sage leaves
1/4 tsp garlic powder
1 tbsp olive oil
Instructions
Make the Vegan Parmesan
Combine all of the parmesan ingredients in a food processor and pulse until everything is incorporated. Store in the refrigerator until ready to use.
Roast the Squash
Preheat your oven to 400 degrees. On a parchment lined baking sheet, drizzle 1Tbsp olive oil, salt, and pepper over butternut squash. Spread the squash out evenly and bake for 30-35 minutes, until the squash is lightly browned and cooked through.
Make the Sage Breadcrumbs
In a blender or food processor, add the bread, sage, and garlic. Pulse until the mixture is the texture of coarse sand.
In a skillet, melt the oil over medium heat. Add the breadcrumbs. Stir occasionally until the breadcrumbs are toasted. Remove from heat and set aside.
Make the Risotto
Pour the vegetable broth into a medium saucepan and heat over medium/high heat.
DO NOT bring to a boil, but once the broth is very warm, turn the heat to low. You will need to keep the broth warm in the saucepan for the remainder of the cooking process.
Heat 2 Tbsp olive oil over medium heat in a large pan or skillet. Once hot, add the leeks and fresh garlic, and sautee until translucent and fragrant.
Add the uncooked rice to the pan and stir occasionally, until you hear the rice crackling (about 2-4 minutes).
Deglaze the pan, by pouring the white wine in. Stir frequently until all of the liquid has absorbed.
Transfer a 1/2 C worth of warm veggie broth to the risotto pan and stir occasionally until all of the liquid is absorbed. Keep the heat on low/medium. Repeat this step until all of the broth is used, or the rice is completely cooked.
Fold the squash, vegan parmesan, and breadcrumbs into the risotto mixture. Serve immediately and season with salt and pepper.
Vegan Butternut Squash Risotto + Sage Breadcrumbs originally posted Oct. 2018 and updated Oct. 2020
Risotto. If you watch any food network competition shows, you know that this is the ONE dish people freak out about. Mainly because contestants try to cook it in 30 minutes or less.. which is.. kind of impossible. Although it does take some time to make, I promise risotto isn't as intimidating as it seems. You truly just need patience for this. We've been making risotto, regularly for a couple years, and we're hooked! We eat it during all seasons and love to use seasonal ingredients to make it all come together.
Getting seasonal ingredients from your farmers market is a great way to make flavorful dishes like this. Support local enjoy quality ingredients at the same time. If you're in the Dallas/Fort Worth area, check out some of our favorite, local farmers markets.
Lola's Local Market | | Clearfork Farmers Market | Cowtown Farmers Market | Keller Farmers Market |
If you're interested in a more comprehensive list, click here.
How to make risotto
Sauté garlic and leeks, then add uncooked arborio rice. Once the rice is toasted, deglaze with white wine (and drink the rest of the bottle if you need to- ha!)
On a separate stovetop burner, heat vegetable broth and keep it warm. You don't want to bring it to a boil. Instead, keep it warm and on low.
Add a ladle full of broth into the rice mixture. Stir occasionally until the broth is absorbed. Continue this step until all of the broth has been used and absorbed the rice. This is why risotto takes a while – adding the broth little by little is a bit tedious, but it's what helps create that delicious, creamy texture.
How to make sage breadcrumbs
Fresh, homemade breadcrumbs make for a perfect, crunchy topping. Cube fresh bread and add it, along with fresh sage, and garlic, to a blender. Pulse until the texture is like coarse sand, and toast it over heat. It's so simple and a great finish to the risotto.
What else goes in this risotto?
Butternut squash, of course, which will be roasted in the oven. Vegan parmesan, which is a simple mixture of cashews, garlic salt and nutritional yeast, is another finishing topping. Pro tip: Buy pre diced butternut squash if you're needing to save time. This is already a labor intensive recipe, so I won't fault you for doing so.
You're going to love this cozy risotto! It makes for excellent leftovers too. Don't forget to rate the recipe below after you've made it.