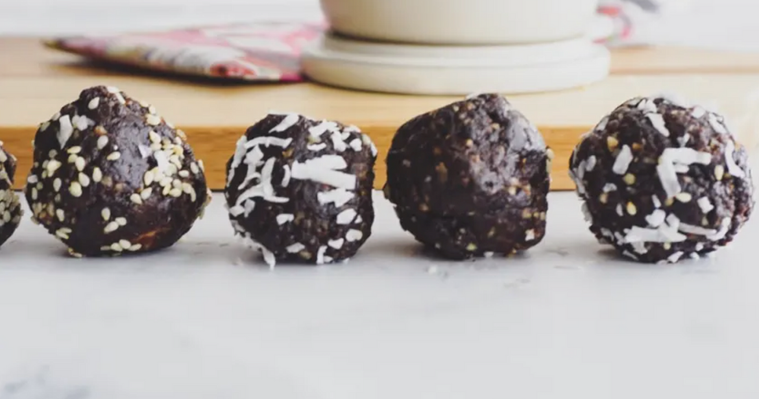 Carob Tahini Bliss Balls

Carob Tahini Bliss balls are a healthy treat made with toasted carob powder, tahini, nuts, and naturally sweetened with maple syrup + dates. Coat with coconut or sesame seeds and enjoy!
Ingredients
2/3 cup tahini paste
1/2 cup carob powder (*we used toasted carob powder)
6 tablespoons maple syrup
1 1/3 cup chopped walnuts
8 soft dates (pitted and roughly chopped)
1 teaspoon salt
optional ingredients
shredded coconut flakes
sesame seeds
chopped nuts
Instructions
Place all of the ingredients in a food processor and pulse until everything is incorporated. *The texture will be soil-like.
Take about 1Tbsp amount of the mixture and gently form into balls (it's best to mold these rather than roll between your palms).
Roll each ball into your topping of choice, such as shredded coconut, sesame seeds, chopped nuts, etc..
Place the batch in the refrigerator and enjoy when you're ready! *you can eat them immediately, but we prefer to have them cold!
Store these in the refrigerator for up to one week.
These Carob Tahini Bliss Balls are THE BOMB ! A chocolately, sweet, smooth, and crunchy treat, all in one bite! They are grain-free, easy to make, and 100% guilt-free.
What is carob powder?
Carob powder is made from dried, roasted carob tree pods. Carob grows on a tree in a pod and is native in the Mediterranean. If you were to open these pods, a pulp like substance would be inside, which is then dried, roasted and turned into powder or chocolate chips. It's a cocoa powder alternative, and while it is sweet like cocoa powder, it has a different, distinct, nutty flavor.
But just like cocoa powder, carob powder isn't something you want to just eat straight. In my opinion, carob taste best in baked goods or raw treats like these bliss balls!
Carob powder nutrition facts
low fat
naturally sweet
low sodium
high in fiber
full of antibiotics
What goes in these carob tahini bliss balls?
carob powder
tahini
maple syrup
walnuts
dates
salt
To finish these off, top with shredded coconut, sesame seeds, or nuts. Or leave them as is!
I've mentioned tahini a few times before on the blog, but for those who need the reminder- tahini is like peanut butter but is made with sesame seeds instead of peanuts. We always have a jar in our pantry and use it frequently. Tahini makes these balls smooth + creamy.
We used walnuts for a nice crunch, but I think brazil nuts, hazelnuts, pistachios, or almonds could be a great substitute. Dates and maple syrup are used as natural sweeteners, and salt balances everything out.
ALSO, these are grain free, so if you're needing to avoid that for any reason – these are for you!
How to make carob tahini bliss balls
place all ingredients in a food processor and blend until the texture is soil-like
roll into small balls and refrigerate
enjoy immediately
You're gonna love these!