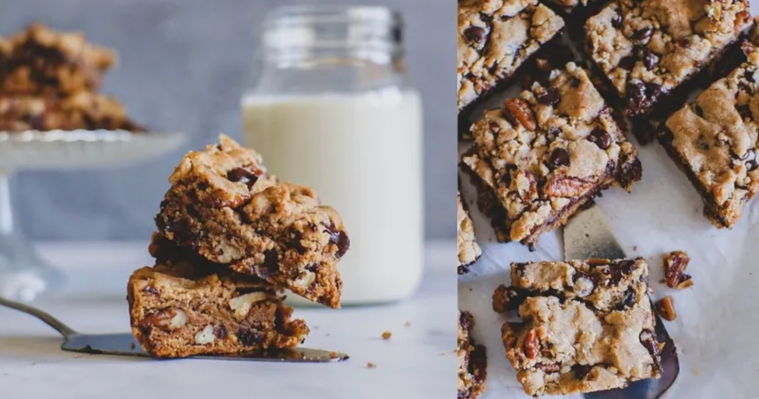 Double Chocolate Pecan Cookie Bars – Vegan

These Vegan Double Chocolate Pecan Cookie Bars contain chocolate dusted pecans, folded into a chocolate chip batter and are baked to perfection!
Ingredients
Cookie Bars
2 C white flour
1/2 C + 1 tbsp vegan butter
1 tsp vanilla extract
1/4 C oat milk (or sub any alt. milk)
1/2 C brown sugar
1/2 C white sugar
1 C chocolate chips
1/2 tsp salt
1 tsp baking powder
3/4 tsp baking soda
1 C cocoa dusted pecans
Cocoa Dusted Pecans
1 C raw pecans (whole or halved)
1 tsp agave
1/4 tsp ground cinnamon
1 tsp coconut oil
1 tbsp cocoa powder
pinch of salt
Instructions
Make the cocoa dusted pecans
Melt the oil and agave in a microwave safe dish for about 30 seconds-1 minute.
Toss the pecans with cocoa powder, cinnamon and salt.
In a large bowl, mix the pecans and oil mixture together until well coated. Let it set until hardened.
Make the cookie bars
Line a 13×9 baking dish with parchment paper and preheat your oven to 350 degrees F.
In a bowl, combine the flour, baking soda, baking powder, and chocolate chips. Whisk until combined.
Melt the butter and transfer to a large mixing bowl. Add the brown sugar, vanilla extract, sugars, and oat milk to that bowl.
Whisk until combined.
Pour the dry mixture into the wet mixture and stir will until combined and thick.
Fold the pecans into the batter and press the cookie batter into the baking pan/dish.
Bake for 20-25 minutes. Let cool and then cut into blocks.
*Store in a covered container at room temperature for about a week.
Hi everyone! This recipe is in conjunction with The Sweetest Season, hosted by my food blogger friend, Erin. The Sweetest Season is a yearly online cookie exchange where bloggers create + share holiday recipes for you to enjoy.
If you know me at all, you know that baking is not my thing. In all honesty, I'm a salt girl through and through. I don't care for the precise measurements and ingredients baking requires. Too fussy for me.
Because of that, my husband takes credit for 99% of anything sweet + baked at Baumassfoods. He comes up with the best, and most delicious ideas. He even thought of/created the Sweetest Season recipe for last year (triple chocolate pistachio cookies).
So what makes these Double Chocolate anyway? Chocolate chips are obviously in the batter, but the pecans are dusted in a cocoa mixture before folding in too.
If you don't like nuts in your cookies, then this probably isn't the recipe for you. If you omit the nuts, it won't be considered double chocolate, thus it won't live up to its name. Do what you will, but trust me when I say that the cocoa dusted pecans are essential.
As with most cookies, dunk in your favorite alt. milk (we love oat milk around here) and enjoy a few at a time.