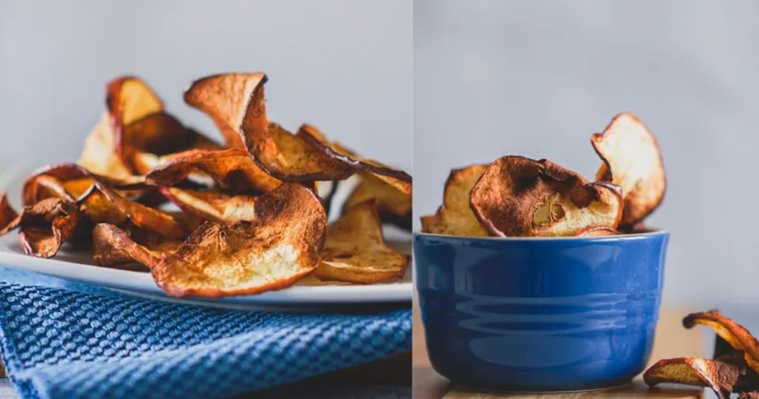 Easy Air Fryer Apple Chips

These Easy Air Fryer Apple Chips are a healthy, no-fuss snack every one and their mama will enjoy. They are oil-free and done in about 10 minutes – what more can you ask from a better-for-you, quick snack?
These Easy Air Fryer Apple Chips are part of the 'relaxed recipes' series, where I share a delicious, bomb ass recipe, without the strict measurements or directions.
Ingredients
Prep Time: 5 minutes
Cook Time: 10 minutes
1 large apple
ground cinnamon
salt (optional )
Instructions
Preheat your air fryer to 365 degrees F
Slice your apple into thin rounds or half moons
Lightly coat them in cinnamon or your spice(s) of choice
Place a single layer of apples on the air fryer and cook for 10 minutes, flipping halfway (I needed to do mine in two batches- this will vary)
Once finished, let them cool a little, as they will crisp up as they cool. Enjoy immediately!
HI – We got an Air-Fryer! We've had it for a couple of months and I haven't really announced it or created recipes with it. I've been enjoying frozen tator tots, onion rings + french fries in them a lot. I honestly cannot believe we used to pop those in the oven. WTF were we thinking?? We're never going back.
Naturally, once the air-fryer became super popular I rebelled and vowed I'd never buy one. Thankfully, my grandparents bought a brand spanking new air-fryer and gave us their old one. I regret my rebellious + stubborn thoughts when it comes to the air-fryer. It truly is gold! I'm still not hopping on the Instapot train though!
Ok, so let's get to the recipe. Thinly sliced apples (or use a mandolin if you have one/want to – we don't have one), cinnamon, salt if you like, and that's it. Play around with the spices or make a cinnamon sugar mixture to turn them into dessert chips. YOU DO YOU.
I know quite a few people like to spray their air fryer with non-stick spray/oil – but we haven't bought that shit in years. I had absolutely no issues with the apples sticking, which makes this recipe oil-free!
Let me know what tasty combos you come up with and don't forget to rate the recipe below!