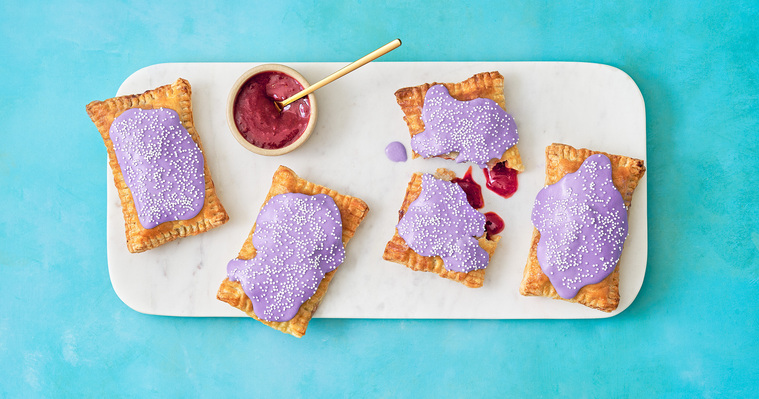 Easy Puff Pastry Pop Tarts

These Easy Puff Pastry Pop Tarts are sweet treat you didn't know you needed! Flaky crusts, filled with a sticky fig + apple compote, make an incredibly delicious combo!
Ingredients
Prep Time: 30 minutes
Cook Time: 25 minutes
For the Pop Tarts + Filling
2 sheets pre packed puff pastry
5 small figs (roughly chopped)
2 medium rave or jazz apples ( *or another slightly tart apple variation – peeled and roughly chopped)
1/3 C brown sugar
1 tsp ground cinnamon
1/4 tsp ground clove
1/4 tsp ground nutmeg
For the "egg" wash
2 tbsp almond milk
1 tsp maple syrup
For the Glaze
1 C powdered sugar
2 tbsp almond milk
Instructions
Thaw your sheets of puff pastry according to the package.
Make the "egg" wash and set aside.
Make the Filling/ Compote
Put all of the filling ingredients into pot, over medium/low heat. Stir occasionally and bring to a simmer for 20 minutes, until a jammy consistency is reached.
Set aside and let cool completely.
Preheat your oven to 375 degrees F
After the puff pastry sheets are thawed, place on a lightly floured surface, and cut each pastry sheet into 6 equal rectangles. You will have 12 total rectangles.
On 6 of the sheets, lightly line the outer inside edges with the "egg" wash. You can do this with your finger or a small brush if preferred.

Put 1 tbsp worth of the filling / compote onto the same sheets.
Take the remaining 6 sheets, and place them on top of the filling sheets. Gently press down with your fingers, and then take a fork to press down the edges, sealing the pastry shut.

Transfer the puff pastry's onto a baking sheet, and bake for 20-25 minutes.
The puff pastry's will rise and may seem gigantic – They will fall once they completely cool.
Make the glaze and set aside.
Once the puff pastry's are done, let them cool slightly before putting drizzling the glaze over them. Let them cool completely before eating!
*Store these puff pastry pop tarts in a container at room temperature for up to one week!
These Easy Puff Pastry Pop Tarts are sweet treat you didn't know you needed! Flaky crusts, filled with a sticky fig + apple compote, make an incredibly delicious combo! You may want to quadruple this recipe, because they will go FAST.
Let's take it back several years to when you ate pop tarts like chips, eating one after the other, until the whole damn box was gone. Didn't matter if they were straight out of the box or toaster. It was only a matter of time before you had a belly full of pop tarts. I know I'm not alone with this – binge eating pop tarts was definitely a thing.
Fast forward to adult-hood. I like eat more veggies, and have seemed to lost the taste for pop tarts. I went a very long time without consuming them. I didn't even think about them. Pop tarts just weren't on my radar anymore.
Then, my husband picked up a box of Annie's Homegrown Brown Sugar Cinnamon Pop Tarts. You can taste the actual cinnamon in it.. not cinnamon flavor. Not imitation cinnamon. I'm hooked immediately, but know I can't go back to my toaster pastry binge days. HA!
Being the grown up that I am, I needed to compromise with myself. That's where these Easy Puff Pastry Pop Tarts come into play. They're homemade.. but not SUPER homemade, because you use store bought puff pastry. That shit is GOLD, and I'm not sure why we don't have a freezer full of it.
After you let the Puff Pastry thaw, you'll fill with the fig + apple compote, bake, let it cool, and ENJOY!
I know you're going to love these as much as we do!