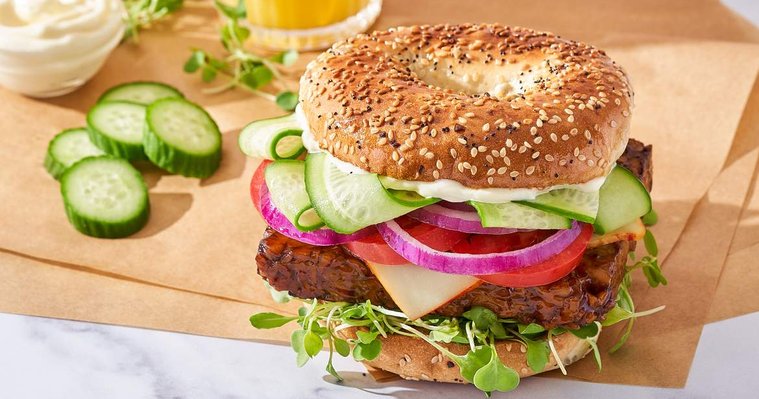 Easy Tempeh Bagel Sandwich

This Easy Tempeh Bagel Sandwich is a yummy, nutrient-dense meal that can be enjoyed any time of the day!
Ingredients
Prep Time: 20 minutes
Cook Time: 10 minutes
2–4 oz tempeh (about 1/4–1/2 of the package)
1 bagel of choice (sliced)
1/2 tbsp olive oil
vegan cheese slice (*optional)
sliced tomato (*optional)
sliced avocado (*optional)
vegan mayo (*optional)
thinly sliced red onion (*optional)
For the tempeh marinade
1/4 tsp minced garlic
1/2 tbsp maple syrup
2 tbsp soy sauce
heavy pinch of paprika
1/4 tsp liquid smoke
Instructions
Remove the tempeh from the packaging and cut 1/4-1/2 of it off (depending on how much you want to eat). Set aside.
Wrap the remaining tempeh back up and store in your fridge.
Whisk or stir all of the marinade ingredients together in a shallow bowl. Set aside.
Slice the tempeh down the middle (like you would slice a bagel for a sandwich) , so that you have two thin strips. Place the tempeh in the marinade bowl, making sure all the tempeh is covered in liquid.
Cover and let it sit for about 20 minutes
Warm oil in a skillet over medium-low heat. Once hot, gently place the tempeh in the skillet, cooking for about 6-10 minutes, flipping halfway when browned.
Toast/warm your bagel, and place the tempeh, and the rest of your ingredients on the bagel. Enjoy immediately!
Today, we're talking TEMPEH! I admit that I am one of those people who hopped on the tempeh train late. I've had it several times at restaurants, but for some reason, never had enough guts to buy and cook it on my own.
While I love my tofu, prepping and cooking tempeh is WORLDS easier. I honestly don't want to fool with tofu for a while, now that I know how easy it is to cook tempeh.
It cooks faster
You don't need to press it
It's easier to get crispy
It tastes meatier (IMO)
If you're interested in knowing about the health benefits of tempeh (there are quite a few), check out this article, written by my best friend + registered dietitian, here.
____
So let's get into making this sandwich. Find the perfect bagel – I am partial to Dave's Killer Bread Everything Bagels. Make your tempeh, and top with whatever you like. Easy enough, right? I went with 2 slices of my favorite vegan cheese (Field Roast's Chao Slices), red onion, avocado, and vegan mayo.
Lettuce, tomato, mustard, hot sauce and pickles are other ingredients I considered adding. This sandwich would also be a good way to use up what you have left in your fridge/pantry! The main thing to get right here, is the cooking the tempeh. After that, everything else falls into place.
After your sandwich is assembled, I highly recommend wrapping it in foil and sticking it in the oven for a few minutes. It's my favorite way to enjoy this! After you finish scarfing this down, be sure to rate this recipe for me!