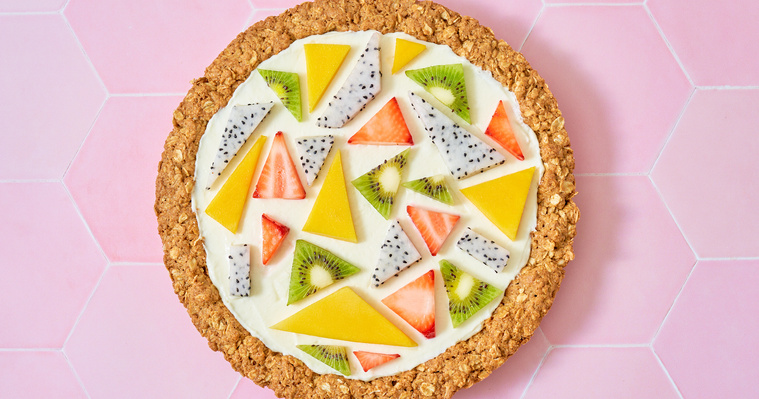 Fruit Pizza with Oatmeal Cookie Crust

Fruit Pizza with Oatmeal Cookie Crust is a lightweight dessert that's easy to make! The classic oatmeal cookie crust is crispy on the outside and chewy on the inside. Topped with vegan yogurt, fruit, and drizzled with honey, this is a warm weather favorite!
Ingredients
Prep Time: 15 min
Cook Time: 25 min
For the Oatmeal Cookie Crust
1/2 C Muscovado sugar *or sub dark brown sugar
1 egg
1/2 C brown sugar
2 C rolled oats
1 C white flour
1/2 tsp cinnamon, ground
1/2 tsp baking soda
6 tbsp vegan butter
1 tsp vanilla extract
1/4 tsp salt
For the Toppings
5–7 oz plain, vegan yogurt
2–3 C fresh, mixed berries *or fruit of choice
honey to drizzle *optional
Instructions
Make the oatmeal cookie crust
Preheat your oven to 350 degrees F
In a large bowl, combine the oats, flour, cinnamon, salt and baking soda. Gently stir until everything is incorporated. Set aside.
In a separate mixing bowl, beat together the butter and sugar. Add the egg and vanilla and beat again until combined.
Add the dry ingredients in 3 increments into the wet ingredients and beat until fully incorporated.
Spread the dough onto a parchment lined cookie sheet and bake for 20-25 minutes, until golden brown around the edges.
Once the crust has cooled, spread the yogurt on. Add the fruit and honey drizzle if using.
Store in the refrigerator for up to 1 week.
Fruit Pizza used to be me and my husbands JAM when we were dating. We made it countless times during the summer, but seemed to have forgotten how awesome they are as the years went on.
In the past, our Fruit Pizza's would consist of sugar cookie dough, cream cheese and fruit. This version is significantly lightened up with a homemade Oatmeal Cookie crust + plain vegan yogurt.
Keep in mind, that although this is a dairy free recipe, it isn't egg free. 1 egg is used in the Oatmeal Cookie Crust – feel free to play around with your favorite egg substitute in this recipe. Just know that it may yield different results.
How to Make Fruit Pizza with Oatmeal Cookie Crust
Make the oatmeal cookie crust as you would a normal cookie batter
Spread the batter onto a cookie sheet + bake
Top with plain, vegan yogurt (we use the Culina brand), and fruit of choice
Drizzle with honey, or sweetener of choice
Super easy!
This recipe is the perfect summer treat and goes quick! I hope you love it as much as we do and it helps cool you down during these hot months.