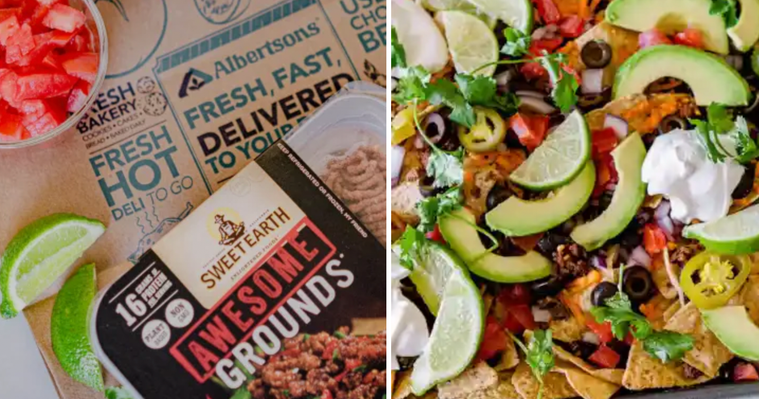 Loaded Vegan Sheet Pan Nachos

This post has been sponsored by SWEET EARTH® Foods. All thoughts and opinions are my own. Loaded Vegan Sheet Pan Nachos are delicious layers of tortilla chips, Sweet Earth Awesome Grounds, black beans, cheese, onion, olives, tomatoes, avocado, jalapeño, sour cream, cilantro, and topped with lime juice. These sizzling nachos are the bomb!
Ingredients
Prep Time: 20
Cook Time: 20
12–15 oz bag of tortilla chips
6 oz Sweet Earth® Awesome Grounds
1 Tbsp olive oil
1/4 C taco seasoning packet
2/3 C water
1 C vegan shredded cheese
3/4 C diced red onion
3/4 C sliced black olives
3/4 C diced roma tomato
1 sliced avocado
1/2 C sliced jalepeno
Several dollops of Vegan Sour Cream
Cilantro, to top
Fresh lime juice, to finish
Instructions
Heat the oil in a medium skillet over medium/low heat. Once warm, add the Awesome Grounds and break up with a utensil until you have uniformed bite sized pieces, about 2 minutes.
Add the water and taco seasoning to the pan. Completely mix in with the Awesome Grounds and cook until the liquid is evaporated and Grounds are fragrant. Cover with a lid and cook on low for about 5 minutes. Set aside from heat once done.
Preheat the oven to 400 degrees and prep all of your toppings.Pour the chips in a large sheet pan. Evenly top with the Awesome Grounds, black beans and cheese. Bake for 10 minutes, or until cheese is melted.
Top the nachos with the remaining ingredients. Enjoy immediately.
I'm going to be bold here and say that everyone loves nachos. This is especially true for people like me who prefer their food mixed together. There's nothing like layers upon layers of your favorite ingredients piled high on top of tortilla chips. Add in the flavor-forward SWEET EARTH® Awesome Grounds and you've got it made! Grab a pack (or 3) at your nearest Albertsons and taste the plant-based deliciousness.
Sweet Earth Awesome Grounds are 100% vegan and incredibly tasty. Find them by the meat at Albertsons, and while you're there, grab all your favorite nacho toppings too. Learn more about what Sweet Earth has to offer here.
Save $1.50 off your purchase!
How to Cook Sweet Earth Awesome Grounds
Cook on an oiled skillet over medium heat
Add a packet of taco seasoning + water and incorporate
Stir occasionally until done
After the Sweet Earth Awesome Grounds are cooked, load them on top of chips and add beans + vegan cheese. Pop them in the oven and bake for a few minutes. Take them out and top with remaining ingredients.
What Else Goes in Loaded Vegan Sheet Pan Nachos?
Black beans
Vegan cheese
Red onion
Black olives
Jalapeños
Tomatoes
Avocado
Cilantro
Vegan sour cream
Add or take away whatever ingredients you'd like, just be sure to check your Albertsons app for coupons on ingredients!
Load these nachos up and watch them disappear real quick!