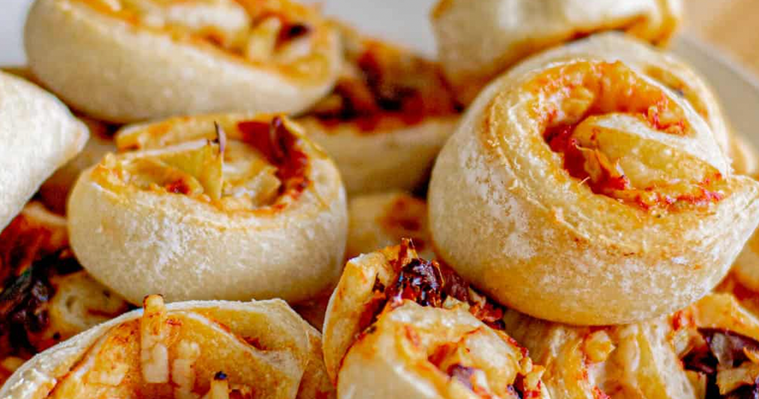 Mediterranean Pizza Rolls

This post has been sponsored by Mutti®. All thoughts and opinions are my own. Mediterranean Pizza Rolls are filled with fresh pizza sauce, artichokes, olives, sun-dried tomatoes, + vegan cheese. You'll love each tender, delicious bite!
Ingredients
Prep Time: 15
Cook Time: 15
Prepared pizza crust
1/4 C Mutti® Positano Sauce for Pizza
1/4 C Mutti® Napoli Sauce for Pizza
1 heaping C combination of artichoke hearts, kalamata olives, sun dried tomatoes, diced
1 C vegan cheese
Instructions
Preheat your oven t0 400 degrees Fahrenheit, or the temperature stated for the prepared dough.
On a large parchment sheet, roll the pizza dough out in a rectangular shape. Cut in half.
On the first half, spread the Positano Sauce, avoiding the edges. Add half of the veggie toppings and cheese. Repeat this with the remaining dough and Napoli Sauce.
Gently roll into a logs. Slice into 1 inch rounds.
Tranfer the rolls onto a parchment lined baking sheet and cook for 15 minutes, or until the dough is golden brown and cooked through. Enjoy!
These tender Mediterranean Pizza Rolls are filled with fresh, simple ingredients like Mutti® Napoli Sauce for Pizza (Fresh Basil & Extra Virgin Olive Oil) + Mutti® Positano Sauce for Pizza (Garlic & Oregano). Artichokes, olives, tomatoes, and vegan cheese are paired with each sauce then baked into delicious rolls. Grab everything at your local Alberston's and get to cookin'!
You all know how much of a big deal #pizzafridays are for us. Even with our newest edition, we still implement our favorite family tradition once a week. Most times we get pizza for takeout, but not surprisingly, that can get old. Switching it up by making pizza rolls at home is a win-win situation! We love heading around the corner to our Albertson's to quickly and easily find all of the ingredients for this recipe, including Mutti's Sauces For Pizza. Plus, you can use their Mobile App to score discounts + deals near you!
Each Mutti sauce used in these pizza rolls has a unique flavor that brings out the delicious taste. The Napoli sauce contains an aromatic blend of vine-ripened tomatoes + basil. The Positano contains sun-ripened tomatoes with savory garlic + oregano. Both sauces pay tribute to Italian cities and their beautifully crafted pizza styles.
I'm going to be upfront here, this recipe calls for store-bought, frozen pizza dough. You can 100% choose to make dough homemade if you'd like, but for this particular season in my life (infant + toddlerhood), store-bought is the way to go. Don't let the crust discourage you. Mutti's sauces are so flavorful, that they make up for any lacking component.
How to Make Mediterranean Pizza Rolls
Roll out your pizza dough. Cut the dough in half to make two separate rolls.
Spread Mutti's Napoli Sauce For Pizza on one dough, and the Positano Sauce on the other.
Layer with vegan cheese, artichokes, kalamata olives, + sundried tomtatoes.
Roll each dough into logs + slice into rounds.
Bake in the oven + enjoy!
Mutti's sauces are so flavorful! Remixing pizza into incredibly delicious + easy pizza rolls is the best. Have these as an appetizer, snack or full blown meal. I'm sure it's no surprise that I opted to have this as a full blown meal—can you blame me? PS—I highly recommend getting the whole family involved in making these Mediterranean Pizza rolls. We love including our 3 year old in meal prep!
I hope you enjoy these as much as we did. Be sure to leave a review below after you devour them!