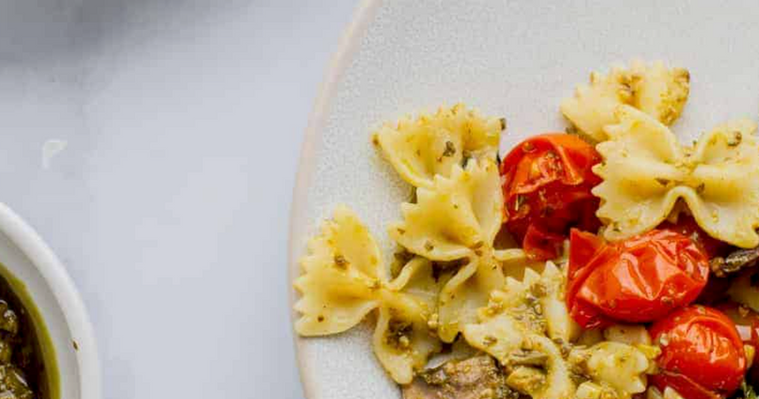 Roasted Vegetable Pasta

This post has been sponsored by Barilla®. All thoughts and opinions are my own. Roasted Vegetable Pasta is a delicious mix of tender, balsamic dressed broccolini, mushrooms and tomatoes, tossed with perfectly cooked, al dente pasta.
Ingredients
Prep Time: 15 min
Cook Time: 25 min
1 cup Barilla® Farfalle
1/4 cup sliced mushrooms
1/4 cup cherry tomatoes
7–8 broccolini stalks, sliced lengthwise
1 tablespoon olive oil
1 tablespoon balsamic glaze/reduction
1 teaspoon dried basil
1 teaspoon dried oregano
2 teaspoon pesto
salt to taste
Instructions
Preheat the oven to 350 degrees
Toss the broccolini, tomatoes, and mushroom with olive oil, basil, and oregano.
Transfer the vegetables to a parchment lined baking sheet, and bake for 25 minutes.
Meanwhile, bring a pot of water to a boil. Once boiling, add the Barilla Farfalle Pasta and cook until al dente, about 11 minutes. Drain and set aside.
When the vegetables are finishes, toss with balsamic glaze and salt. Toss with the Pasta and season to taste.
High quality pasta, like Barilla Blue Box Pasta, is something I could never imagine cutting from my diet. I grew up eating Barilla and now enjoy feeding my family their high quality pasta too. Once a week, we enjoy a pasta based meal as a family, and I love pairing healthy, seasonal produce with Barilla. It truly makes for an easy, family meal week after week – which everyone can appreciate! Barilla doesn't just make dinner, it makes it just right.
Head to the pasta aisle in your local Albertsons, and pick up Barilla® Farfalle for this recipe. No matter which box you grab, know that each box on the shelf has high standards to ensure the consistent quality.
If you haven't, download the Albertsons mobile app to save on everything you need for this roasted vegetable pasta!
How to cook pasta al dente
Cooking pasta al dente means cooking it just right! In order to achieve the classic Al Dente texture, follow these simple steps below.
Bring 4-6 quarts of water to a boil
Add salt and bring back to a boil
Add pasta and cook for 11 minutes
Do a taste test and check for slight resistance
Drain and enjoy with your favorite recipe, like this roasted vegetable pasta
How to make Roasted Vegetable Pasta
This recipe couldn't be any easier to make.
Roast mushroom, broccolini, and tomatoes.
Toss the vegetables with balsamic glaze/balsamic reduction (you can find this in the pasta aisle).
Serve with Barilla® Farfalle Pasta, cooked al dente, and pesto.
Make dinner al dente with Barilla and this Roasted Vegetable Pasta recipe. Enjoy and let me know how much you loved it by rating it below.