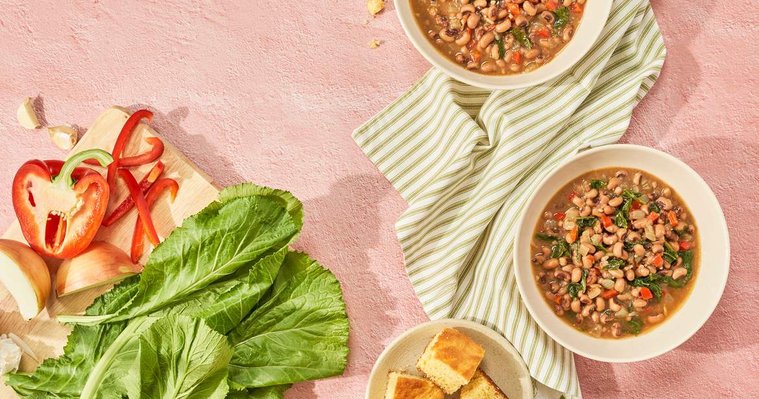 Slow Cooked Black Eyed Peas + Greens

These Slow Cooked Black Eyed Peas + Greens are incredibly tender and easy to make. Packed with nutrients and flavor, you'll enjoy this comforting dish as a side or an entree!
Ingredients
Prep Time: 15 minutes
Cook Time: 4 hours
1 red bell pepper (diced)
1/2 white or yellow onion (diced)
2 tsp minced garlic
1 tbsp olive oil
2 cans black eyed peas (drained and rinsed)
3–4 C vegetable broth
1 tbsp old bay seasoning
3 C mustard greens (destemmed and roughly chopped)
salt and pepper to taste
Instructions
Heat a skillet over medium heat. Once warm, add oil and sautee the garlic, onion, and bell pepper. Stir until onions are soft and everything is fragrant.
Transfer the cooked veggies, black eyed peas, veggie broth and seasonings into a crockpot and cover. Turn on high and cook for 3.5 hours, stirring occasionally.
At the 3.5 hour mark, add the mustard greens and stir to combine. Cover and cook for the remaining 30 minutes.
Once done, stir gently and season to taste.
I'm kicking off Black History Month by partnering with 25 insanely talented, bomb-ass, black food bloggers from around the web. Consider this your official invite to the 2020 Black History Month Virtual Potluck. These slow cooked black eyed peas + greens are my contribution, and by your reaction to the picture I posted of them on IG a few weeks ago, I know you're gonna love these.
Funny enough, this is a meal I only recently started to enjoy. Growing up, my dad forced us to eat black eyed peas before the New Year for good luck. Greens were also a big no go for me. It honestly wasn't until I became vegan/vegetarian that I loved (and even craved) the combination of the two.
My husband and I frequently make a version of this meal during the colder months. We love using fresh black eyed peas, but they are incredibly hard to find near us. They make an appearance a day or so after New Years, then they're gone! Canned black eyed peas do the trick. No soaking involved. Just dump it in the crockpot along with everything else.
What's in these Slow Cooked Black Eyed Peas + Greens?
black eyed peas
white/yellow onion
garlic
red bell pepper
veggie broth
mustard greens
old bay seasoning
salt + pepp
Some very basic ingredients make a far-from-basic meal.
Serve over rice or couscous to enjoy as an entree, or on its own as a side. We always eat this with cornbread, and it's the best combo, IMO. Whichever you choose, you're sure to love it!