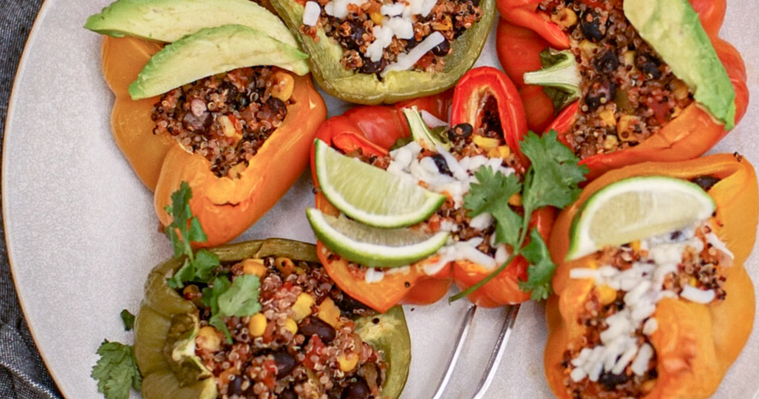 Southwestern Quinoa Stuffed Peppers

This post has been sponsored by RIVIANA Foods. All thoughts and opinions are my own.
These Southwestern Quinoa Stuffed Peppers are loaded with flavor and come together in a pinch. Filled with Success® Boil-in-Bag Quinoa, corn, beans, salsa and more, these are sure to be your favorite, easy meal!
Ingredients
Prep Time: 15 minutes
Cook Time: 50 minutes
4 bell peppers (halved vertically through the stem)
1 bag Success Quinoa
1/2 C your favorite salsa
1/4 C canned green chilis (diced)
1/2 C canned corn (drained and rinsed)
1/2 C canned black beans (drained and rinsed)
1/4 tsp chili powder
1 1/2 tsp cumin
1 tsp oregano
juice from 1/2 a lime
1/2 C water
salt (to taste)
black pepper (to taste)
dairy free cheese (*optional )
cilantro (for topping )
sliced avocado (for topping )
Instructions
Parbake / steam the bell peppers
Preheat your oven to 400 degrees
Pour the water into a 13×9, deep baking pan. Arrange the bell peppers in the pan, cut side up.
Bake for 15-20 minutes, uncovered, until the peppers are soft, but not cooked through.
Cook the quinoa
While the peppers are in the oven, cook the Success Quinoa according to the directions.
Drain of water and empty the quinoa into a large bowl once finished.
Make the filling
Add the salsa, green chilis, corn, beans, spices, and lime juice to the bowl of quinoa.
Mix well and season to taste.
Cook the peppers
After the peppers are done parbaking, fill each half with the filling. Put enough that it reaches the top, but doesn't overflow.
Bake at 400 degrees, uncovered, for 25 minutes.
*If using cheese, top the peppers with the cheese at the 15-20 minute mark and continue baking.
Let the peppers cool and top with cilantro, avocado, more salsa and/or lime juice.
Enjoy as leftovers!
*If you have extra filling, they make great leftovers or filling for other meals, like tacos, wraps, etc…
Arguably, one of the worst parts about adulthood is figuring out what to cook for a meal for the rest of your life. When you think about it, it's a pretty daunting task. There's only so many recipes and ways to make your favorite meals unique or less time consuming.
That's where me, Kroger, and Success Quinoa come into play. After getting a couple produce items (fresh produce is always important), head to the rice aisle. That's where you'll find Success Quinoa. Save now, AND get the recipe.
Grab a couple of boxes because quinoa is a necessary pantry staple for everyone. Go one or two aisles over, and retrieve a couple of canned goods. We love Kroger because of the competitive prices they offer AND the products they store.
PS – Save .50 when you download the coupon to your shopper card.
Success® is the easiest way to cook quinoa and rice to perfection every time. Even better is the lack of clean up involved. With soon to be 2 young kids running around, I need every break from mess-clean up as I can get! When you can simultaneously take ludacris demands from a threenager and NOT F up dinner, that's what I call #cookingwithsuccess. It tastes great and makes everything quick, easy, and convenient! You'll never have to sacrifice on quality again. Success is in the bag®!
They also have other convenient, boil-in-bag products such as; Jasmine, Basmati, and Brown and White Rice. Check out the recipe for this Miso Mushroom Rice Bowl, which includes Success Jasmine Rice.
Let's take a quick moment to talk about what's in these stuffed peppers.
bell peppers
Success Quinoa
canned corn
canned black beans
your favorite salsa
lime juice
spices
green chilis
Top these beauties with your favorite cheese, cilantro, avocado and lime!
All you need are a few ingredients and dinner is served!
I know you and your family will love these incredibly easy stuffed peppers. Plus, the filling itself make amazing leftovers! Let me you enjoyed this by commenting and rating the recipe below.