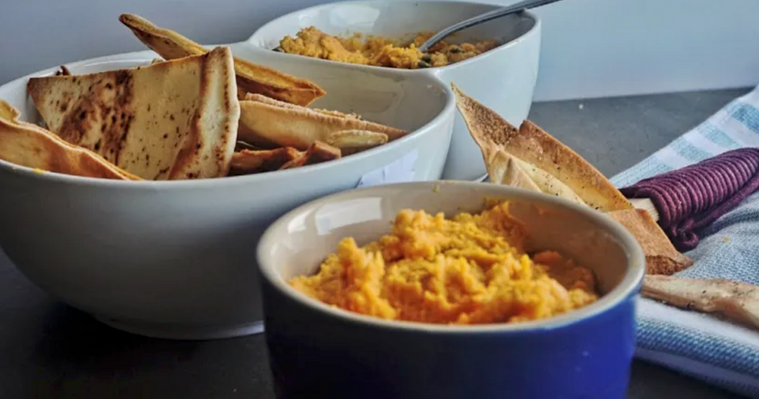 Sweet Potato Hummus and DIY Pita Chips
Smooth Sweet Potato Hummus and crispy Pita Chips make the perfect snacking duo.
Total Time: 45 minutes
Yield: 4
Ingredients
For the sweet potatoes
3/4 C sweet potato (peeled and diced)
2 tsp olive oil
1/2 tsp garlic powder
1/2 tsp chili powder
For the Hummus
1 16oz canned garbanzo beans (drained, rinsed, and de-skinned*)
1 tbsp tahini
3 tbsp olive oil
juice from 1.5 lemons
1/2 tsp salt (plus more to taste)
1/4 tsp minced garlic
For the Pita Chips
1 package pita bread ((about 4))
1–2 tbsp olive oil
1/2 tsp paprika
1/2 tsp garlic powder
salt (to taste)
black pepper (to taste)
Instructions
Make the Hummus
Preheat your oven to 350 degrees and line a baking sheet with parchment paper. Coat the sweet potatoes with oil and spices and bake until very soft, around 25 minutes.
Add the sweet potatoes, and remaining hummus ingredients, minus the oil, into a food processor or high speed blender. Blend until smooth, steadily adding in the oil.
Make the Pita Chips
Cut the pita bread into chip like shapes (I use a pizza cutter to do this), and brush olive oil on them.
Coat the bread with spices and place on a baking sheet. Broil in the oven for 5-7 minutes, or until crispy, flipping halfway.
*Only de-skin the chickpeas if you have time. They make for a smoother/less gritty texture.
Hummus. It's one of those dips that most of us love. In fact, I've never met anyone who doesn't like it. If you're one of those people, I bet it's because you haven't had it homemade. Homemade is always better. This Sweet Potato Hummus and DIY Pita Chips is proof.
I cannot believe it's taken this long to post a hummus recipe. I used to make hummus ALL OF THE TIME. So much so, that it was second nature to me and I never needed a "recipe" per say. If you've never made it, you must! It's one of those foods that's almost always better than store bought, and it doesn't take too much time or effort.
I will say – this can take longer if you choose to de-skin every single chickpea (I did). You can do this to eliminate the gritty texture which makes for a smoother hummus. I understand if you don't have time for all of that, but it does make a bit of a difference!
Roast the sweet potatoes for a bit, then add in all of the other hummus essentials – chickpeas (garbanzo beans) + tahini + lemon juice + garlic + oil + salt. Blend until creamy & viola!
& let's not be intimidated by these pita chips. All you do is buy store bought pita bread, drizzle some oil and spices on them, and broil them in the oven. They're sooo crispy, and make the perfect dipping companion to the hummus.