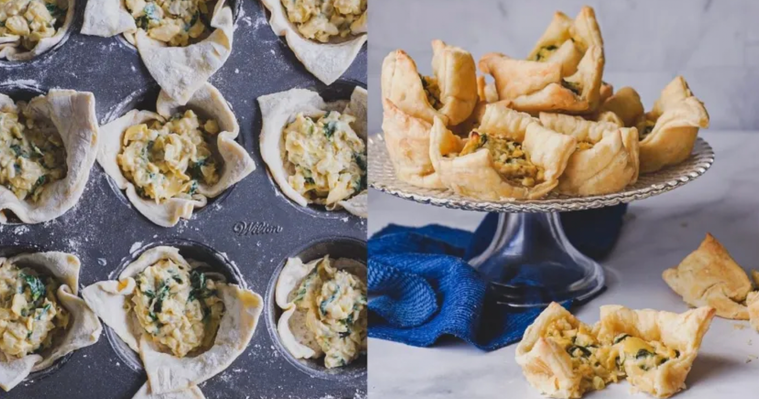 Vegan Spinach Artichoke Puff Pastry Cups

These Vegan Spinach Artichoke Puff Pastry Cups make a tasty holiday appetizer or snack! It's a creamy, cheesy dip is surrounded by a soft, flaky dough, making this a knock-out recipe.
Ingredients
Prep Time: 30 minutes
Cook Time: 12 minutes
1 sheet puff pastry (thawed and prepped according to package)
1/2 sweet or yellow onion (diced)
1 tbsp olive oil
3/4 C fresh spinach
3/4 C artichokes (drained, chopped and measured after chopping)
1–2 tbsp nutritional yeast
1/4 tsp apple cider vinegar
1/4 C vegan mozzarella
1/4 C softened vegan cream cheese
1 tbsp almond milk or dairy free milk (unsweetened )
salt (to taste)
black pepper (to taste)
Instructions
Preheat oven to 375 degrees F
Over medium heat, heat a skillet with olive oil. Add the onion and garlic, and cook until soft, about 3-4 minutes.
Add fresh spinach to the skillet and cook on low for 1 minute, or slightly before wilted. Pour everything into a large bowl.
Add the remaining ingredients (everything listed except the puff pastry), into the bowl and stir until combined. Set aside or refrigerate until ready to use.
Prepare the puff pastry by following the directions on the box. Roll out with a rolling pin, until the area is larger than your muffin pan.
Cut the pastry into 12 equal squares, and lightly mold into each muffin tin. Using a fork, poke several holes in the bottom and sides of each mold.
Fill each tin hole with 1 heaping tbsp of the artichoke filling.
Cook in the oven for 12 minutes.
So who doesn't love spinach artichoke dip?
I always did, until I found out they contained artichokes. Yes, teenage Hilaire was that dumb. Thankfully, I grew up and love artichokes in dips and other meals too!
Spinach artichoke dip is great when eaten with chips… but I mean, have you tried it wrapped in a soft, flaky dough? You're about to..
Let's get into the recipe portion.
Make the spinach artichoke dip.
Thaw the puff pastry. Follow the directions on the box for rolling it out.
Cut into 12 as-even-as-you-can-get squares.
Place each square into a muffin tin.
Poke holes into the dough.
Fill the dough with the dip.
Bake in a hot oven.
Eat them all in 20 minutes.
These would be great as a holiday appetizer, a grab and go breakfast bite, or whatever your feeling. I've had them at all hours of the day and can attest to them being great at any time.
Also, if you're looking for a healthier recipe, this ain't it! I'm not subbing vegan cheese for nuts or anything like that. Vegan cheese, oil, dough, carbs, YUM.
I know you're going to love these! Double the batch and thank me later!